FEATURED PACKAGES
2023 TOP PICK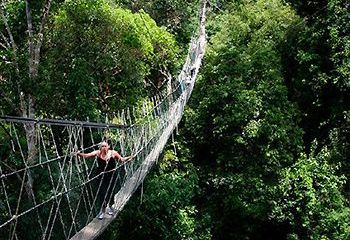 3 Days 2 Nights Nature Explorer ex KL
2 Nights stay at Xcape Resort
Activities - Night Jungle Walk /Canopy Walkway / Jungle Trekking / Visit to Orang Asli Village / Boat to River Rapid Shooting
Meals ( 2 Breakfast / 1 Lunch / 2 Dinner)
1 Way Transfer Kuala Lumpur - Kuala Tahan with boat
1 Way Transfer Kuala Tahan to Kuala Lumpur / Cameron Highlands (Drop off at Tanah Rata Bus Station)
Book Now
2023 TOP PICK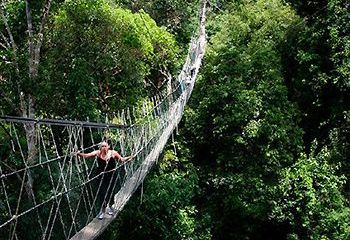 3 Days 2 Nights Trekking Tour Package
2 Nights stay at Xcape Resort
Meals ( 2 Breakfast / 1 Lunch / 2 Dinner) 2Bbreakfast & 2Dinner at Resort + 1Pack Lunch
Activities - Night Jungle Walk /6km Jungle Trekking to Teras Waterfall with stop at Canopy Walkway + Swim in the waterfall / Visit to Orang Asli Village / Boat to River Rapid Shooting *canopy walkway is closed on every Friday
1 Way Transfer Kuala Lumpur - Kuala Tahan with boat Departure : Ground floor of Hotel Travelodge Chinatown (No 7, Jalan Hang Kasturi, 50050 KL)
1 Way Transfer Kuala Tahan to Kuala Lumpur / Cameron Highlands (Drop off at Tanah Rata Bus Station)
Book Now
---
---
Jungle Paradise of Taman Negara
No holiday or vacation in the tropics is complete without visiting a tropical rainforest. And there's no grandeur than to visit the TAMAN NEGARA, reputed to be The Oldest Jungle , The Best Kept Tropical Rainforest & The Great Natural Wonders of the world. By that it means that Taman Negara's flora & fauna has evolved naturally over hundreds of millions of years without any disruption or major calamities.
Getting to Taman Negara
Located within the States of Kelantan, Terengganu & Pahang. Pahang is the largest state in Peninsula Malaysia which is a treasure chest full of natural, charming and priceless jewels. One of the Pahang's most valuable jewels is Taman Negara, which offers fabulous assets that are timeless and highly valued by Malaysian, tourists, environmentalists ands nature lovers the world over.
About Taman Negara
Taman Negara was declared for conservation in 1938 and has become Malaysia's premier national park and the largest in the country covering over 4343 square kilometres (434,300 hectares) of primary forest, spans across three states Kelantan, Terengganu and Pahang - and is situated in the centre of the Peninsula Malaysia. Taman Negara is the most extensive protected area of pristine, lowland, evergreen rainforest in the country. Taman Negara originated from a Pahang State Legislation in 1925 and in the district of Jerantut. Over 1300 square kilometres of tropical jungle in its natural state was designated "THE GUNUNG TAHAN GAME RESERVE". This became the National Park in 1938 when the Sultan of Pahang, Terengganu and Kelantan set aside the present area, and named it the "KING GEORGE V NATIONAL PARK". After Independence, the name was changed to TAMAN NEGARA. The stated purpose of Taman Negara is "to utilise the land within the park in perpetuity, for the propagation, protection and preservation of indigeneous flora and fauna". With so much to see and do, a trip to Taman Negara is a must on your itinerary.
---